The max hydration method (or the maximum hydration method) is a great way to get moisture into dry hair and encourage curl clumping and definition.
I broke down the Cherry Lola Treatment in the previous article including the modified Cherry Lola treatment.
The article includes step-by-step directions for the Cherry Lola method and the best options for high porosity hair.
One of those options is the max hydration method even though this method was developed for low porosity hair as well.
If you haven't already, you may want to subscribe for access to the free resource library, which includes:-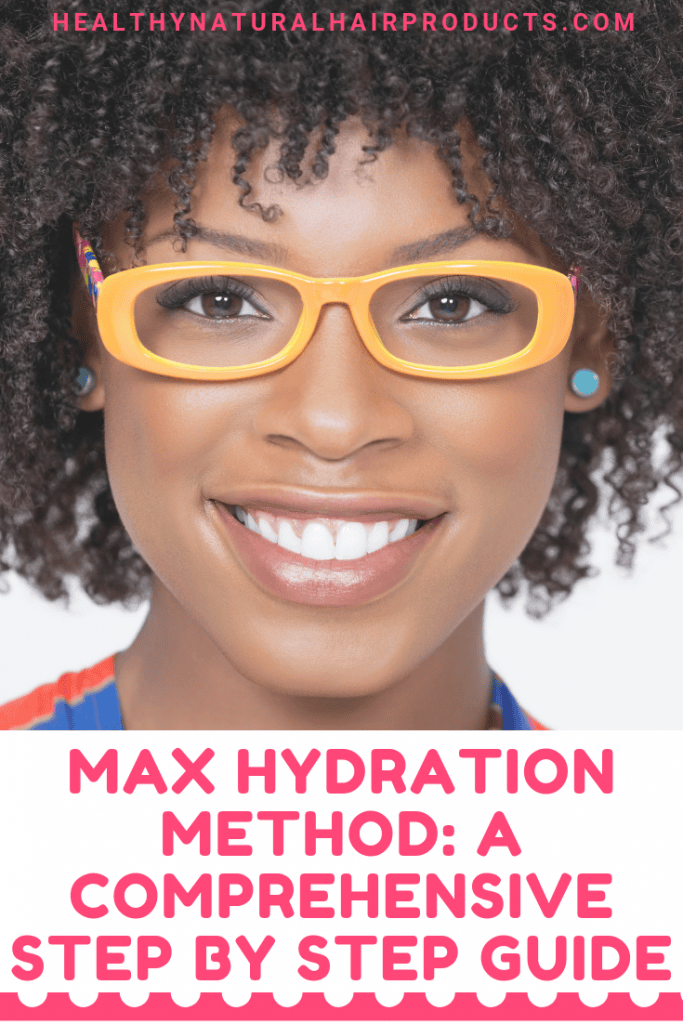 This series started from the liquid amino acids for hair article so you may want to go back and start reading from there if you prefer. This article will cover:-
Max Hydration Method for Natural Hair
What is the Max Hydration Method?
Like the Cherry Lola treatment, the Max Hydration Method (aka MHM) was developed by a member of one of the natural hair forums known as PinkeCube.
It's a 5 step method with an optional oil step to promote moisture retention and curl definition in low porosity hair.
There was an active maximum hydration method blog when the treatment first came.
However, the blog has since become defunct since PinkeCube is no longer active online.
Benefits of the Max Hydration Method
Promotes Moisture Retention
The Max Hydration Method helps reduce frizz in curly hair and promotes better moisture retention in dry hair.
Increases Curl Definition
The Max Hydration Method promotes curl clumping and definition from root to tip.
This starts slowly from the first treatment and takes a few months to get your hair to maximum curl definition.
Restores Moisture to Dry Hair
The Max Hydration Method is extremely beneficial for dry hair. It will deliver much-needed hydration and moisture to your curls.
However, you can still try the Max Hydration Method even if you don't have dry hair.
Reduces Hair Shedding
With the Max Hydration Method, you can expect less shedding, fewer single strand knots (SSKs), and fewer tangles making full regimen day a breeze to get through.
Max Hydration Method Regimen – Step by Step Instructions
This set of instructions is for someone who has never tried this treatment. You should do it from start to finish the first time.
Max Hydration Method Step 1 – Cherry Lola Treatment
The Cherry Lola treatment is the first step if you've never tried the Max Hydration Method.
It involves 16 oz full-fat yogurt, 2 tablespoons of baking soda, and 2 tablespoons of liquid amino acids.
This step clarifies your hair and prepares it for the full MHM regimen.
You can see more about the Cherry Lola treatment with modifications you can use at DIY Amino Acid Hair Treatment – Cherry Lola Treatment.
After the Cherry Lola treatment the first time, dilute a spoon of baking soda with 4 oz of warm water to use as step 1 every time you do the Max Hydration Method.
If baking soda throws off the pH balance of your scalp and leads to itching, replace this step with diluted Castile soap and deep conditioner instead.
You can also try raw African black soap for this step. I recommended Alaffia African Black Soap.
Desert Essence, Tea Tree Oil Liquid Castile Soap 8.5 fl. oz. – Non-GMO – Gluten Free – Vegan – Cruelty Free – Olive Oil Base – Eco-Harvest Tea Tree Oil – Versatile Soap for Hands, Face & Body
Premium-quality Olive Oil—the star hydrating ingredient of the original Castile Soap recipe—for a nutrient-rich boost of moisture
Light, moisturizing Coconut Oil and pure, potent Eco-Harvest Tea Tree Oil create a soap that's as luxurious as it is versatile, equally useful for the hands, face and body
Non-GMO NSF Certified, Gluten Free, Cruelty Free, Vegan
NO: Animal Derived Ingredients, Animal Testing, Parabens, Phthalates, Artificial Dyes or Fragrances, Silicones, EDTA, Propylene glycol, Mineral Oil, Petrolatum, Paraffin or Phosphates
My favorite brand is Desert Essence Castile Soap. Pour 2 tablespoons of Castile soap and 2 tablespoons of moisturizing deep conditioner into an applicator bottle like this one.
Add 4 – 6 oz of warm rose water. Close the bottle and shake. Apply to your hair like shampoo, twist, and pin-up hair then cover with a disposable cap.
Leave the mix in for 10 mins then rinse out with lukewarm water and continue with the rest of the steps.
Max Hydration Method Step 2 – Co-washing
After rinsing out the Cherry Lola treatment, dilute two tablespoons of moisturizing deep conditioner with warm water in an applicator bottle.
Apply to your strands in sections. Lightly detangle then twist and pin up each section.
Cover your hair with a disposable cap and leave it on for 1 hour to overnight. The next morning, detangle thoroughly then rinse out and move on to step 3.
Max Hydration Method Step 3 – Clay Washing
This is the step where you start to see results. Pour 3 heaped tablespoons of bentonite clay into a plastic bowl and pour in two cups of hot water.
Whisk until the clay is dissolved completely. Expect it to swell up significantly. Add 1 tablespoon of olive oil or sweet almond oil to the clay and mix again.
Use a plastic utensil to do this. I use a balloon whisk like OXO Good Grips Better Silicone Balloon Whisk.
The end result after mixing your clay wash should look something like below depending on what kind of clay you use:-
Wait for the mix to cool down then start applying to your hair in very small sections.
This step requires a lot of patience because the clay needs to cover all of your hair.
Your curls will start to clump together at this step. When you've covered all your hair, pin up and cover with a disposable cap. Leave on for 45 mins – 2 hours.
Some people leave it on overnight but I didn't like the way it made my hair feel when I rinsed it out.
After 45 minutes, rinse out the clay with lukewarm water. A few rinses will be required to get all the clay out. Do not dry your hair.
Here's a picture of my hair with the bentonite clay mix in it. You can see the great curl definition:-
Max Hydration Method Step 4 – Leave-in Conditioner
You should have this prepared before you rinse out the clay so you can apply it immediately after rinsing while your hair is still dripping wet.
In a large applicator bottle, dilute two tablespoons of leave-in conditioner with lukewarm water. You can also use rose water.
Apply this mix generously to your hair. Let it drip through your strands and don't squeeze out the excess. Move on to step 5.
Max Hydration Method Step 5 – Hair Gel
Apply the hair gel over your dripping strands and work through with your fingers. This will promote definition and help curls clump even better.
You can use a commercial hair gel (recommendations in the next article) or make your own. Read Homemade Gels for some inspiration.
Max Hydration Method Step 6 – Gel Cast with Oil (Optional)
This step is optional but it forms a nice cast on your strands.
Before you do this step, shake out the excess product from your hair after the leave-in conditioner and gel application. Don't squeeze it out.
Just bend your head over and shake out the excess then pour about a tablespoon of olive oil, sweet almond oil, or grapeseed oil into your palm and spread through your curls.
You can also try Arewa Hair Styling Oil, a mix of the best plant oils for longer-lasting and defined hairstyles.

And you're done. At this point, you can let your hair air dry. Your curls will shrink slightly but the definition will remain.
You can also diffuse your hair with a blow dryer to dry it faster. Shrinkage won't be as much as if you let it air dry.
If you're familiar with the max hydration method and just looking for a shortened version, then continue to the shortened Max Hydration Method below.
This is the method I use now. I only go through the full method from start to finish a few times a year.
Modified Max Hydration Method
In trying out the modified max hydration method, the order the products are applied changes slightly but the results are equally effective.
Step 1 – Clay Washing
Rinse your hair and apply the clay wash the same way as above. The clay mix acts as a sort of shampoo here.
Cover your hair with a disposable cap and leave it on for 30 – 45 minutes, an hour if you have the time. Rinse out the clay with lukewarm water.
Step 2 – Deep Conditioner
Apply diluted deep conditioner to your hair in sections then sit under a hair steamer for 30 mins with your hair loose.
Step 3 – Leave-in Conditioner
After steaming, apply diluted leave-in conditioner then shake out the excess product and finish off by rubbing a tablespoon of oil between your hands and working through your strands.
This shouldn't take more than two hours from start to finish. I loved the results of the shortened method.
How Often Should You Do the Max Hydration Method?
Once or twice a week should be fine for this method especially if you want to do other things to your hair.
If you're doing the Max Hydration Method for the first time, do it every day for 7 days as recommended then you can reduce it to once or twice a week.
How Long Does the Maximum Hydration Method Last?
In the beginning, the maximum hydration method lasts for 7 days then afterward, you can proceed with it every 3 – 5 days or once a week.
As for the process itself, it will take a few hours every time but you can cut the time down by doing steps 1 and 2 in the evening then the rest of the steps the next morning.
You can also convert to the modified max hydration method after the first 7 days.
Cherry Lola Treatment vs Max Hydration Method
I've been asked if the Cherry Lola treatment can be used to replace the Max Hydration Method and vice versa and the answer is no.
They are two different treatments and are meant to achieve different results.
The Cherry Lola treatment is more for strength, shine, and softness while the Max Hydration Treatment is more for moisture retention and curl definition.
These results are interchangeable between the treatments depending on your hair type and current hair health.
Max Hydration Method can be repeated more than once a week without issues whereas doing the Cherry Lola Treatment more than once a week after a few weeks can lead to dry hair.
The Max Hydration Method is also better suited for high porosity hair while high porosity hair might not take too well to the Cherry Lola Treatment alone.
Final word, use the Cherry Lola Treatment every 8 – 10 weeks and the Max Hydration Method every week or two for best results.
Results vary from person to person and you may well find out that your hair prefers one over the other so pay attention to your results.
Max Hydration Method Results
Below is a video collage of some results trying out the Max Hydration Method on 3c/4a/4b hair:-
Do you have any questions about the Max Hydration Method? Ask them in the comments section.
For ingredients in hair care products to avoid and the best products for each step of MHM, check out Approved Max Hydration Method Products.
Don't forget to subscribe so you can be notified once the article is up. HHG :).

This post may contain affiliate links which means we will make a small commission if you purchase through those links. Read full disclosure HERE.