When looking for the best detangling brush for your hair type, check out these 15 options designed for various hair types and densities.
This post also includes a breakdown of what to consider when choosing the best detangling brush for natural hair.
Before I began transitioning, I believed that brushing my hair 100 times a day would make it shiny and healthy.
I brushed away not realizing that was the reason there was broken hair all over my bathroom floor.
After my natural hair started growing out, I caught onto the real culprit and began avoiding brushes by any means necessary.
I became 100% reliant on finger detangling. Over the years, as I became familiar with my hair, I relented on that stance a little bit.
This post may contain affiliate links, meaning we will make a small commission if you purchase through those links. Read full disclosure HERE.
15 Best Detangling Brushes for Natural Curly Hair
There are some brushes that are quite good for natural hair and can help detangle and remove knots without damaging hair.
I have tried most of the detangling brushes below at one time or the other and my hair didn't always love every one.
However, they are the most effective detangling brushes for natural hair if you feel like you need one.
My favorite tool for detangling natural hair remains my fingers. My hair is a mix of 3C, 4A, and 4B textures.
While you're here, don't forget to check out the free resource library for subscribers HERE.
Denman Tangle Tamer Ultra is great for removing knots and tangles from all hair types.
The nylon bristles are designed to allow the brush to glide through hair without catching and dragging.
The ergonomically shaped handle makes it easy to hold and it's available in several different colors and patterns. Learn more here.
The High Definition Detangling Brush is a patent pending detangler brush with dual multifunctional sides.
It's dual-sided and designed to perform 4 actions – detangle, define, smoothes, and clumps. Learn more here.
Curl Keeper The Original Flexy Brush has a unique design that removes product build-up more effectively.
It can be used on dry and wet hair and is perfect for curl clumping and definition. Learn more here.
The Michel Mercier Detangling Brush has a funky design and comes in several nice colors like blue, pink, and yellow.
The patented brush has a unique geometric design with 428 bristles of varying lengths.
The reasoning behind this design is it disperses the pressure placed on hair during brushing.
You cannot use this brush with heat styling so keep away from blow dryers and flat irons.
This range comes in three designs for fine, normal, and thick hair (indicated by the colors) so it's suitable for all hair types.
It would be particularly good for further detangling each section of hair before putting Curlformers on the hair.
The brush is supposed to work on dry hair too but I would never run a brush through dry natural hair.
The Michel Mercier Detangling Brush is a bit on the pricey side but expect it to last for a very long time. Buy the correct type for your hair below:-
Do boar bristle brushes damage hair? This is a question that comes up often because the way the brush looks is a bit alarming for natural hair.
However, a boar bristle brush is made out of boar hair because the texture of boar hair is similar to human hair texture.
A good boar bristle brush lifts all the dirt and debris from hair and scalp and aids the scalp's natural oils to reach the tips from the root.
I prefer to use boar bristle brushes for smoothing my edges, sides, and nape area.
The kind of boar bristle brush you choose depends on your hair type. Boar bristle brushes can be used for all hair types – straight hair, fine hair, curly hair, and thick hair.
The best boar bristles for natural hair and fine hair are as follows:-
The Denman brush is one of those products that has a bandwagon and you feel compelled to like it.
Unfortunately, your hair doesn't always share the same compulsion.
Despite the many many reviews about how awesome the Denman Detangling Brush is and how well it detangles hair, my hair didn't care for it.
I modified the rows but it didn't make any difference. It yanked and pulled at my hair no matter how many detangling products I added.
I included it on this list because despite my hair not liking it, there are many ladies that still swear by its effectiveness.
I believe the Denman Detangling brush is better suited for type 1 – type 3B hair.
1 great thing about this brush though is I used it to create finger coils using the video tutorial HERE.
The most popular Denman Brush for natural hair is the D3 range.
You can modify it by pulling out the base and extracting 1 or 2 rows from the 7 rows.
The Tangle Teezer was created by a British hairstylist. It was all the rage a few years ago, and like any good, self-respecting PJ, I ordered one to try out.
The teeth are designed to glide smoothly through your hair without pulling or tugging, which is what every curly-haired girl loves.
While the Tangle Teezer did detangle my hair, it also caused severe split ends, which I didn't notice for some time because it happened slowly.
These split ends were concentrated primarily in the part of my hair that's 4A – 4B. The part that's 3C was just fine.
This suggests that the Tangle Teezer is best for type 2 – 3 hair and type 4 hair types are better with another suggestion on the list.
The Tangle Teezer also doesn't have a handle so it flew out of my hand regularly when my hair was wet.
Since the original Tangle Teezer was launched, the brand has now grown its line to include several designs and colors but the original version remains the most popular.
The Tangle Teezer also has The Ultimate Detangler, an award-winning addition to the collection.
The Ultimate Detangler is larger than the original version and includes a handle as well. Available in several colors. Learn more here.
Verb Detangling Brush works for all hair types and textures plus the manufacturer claims it can be used on dry hair as well.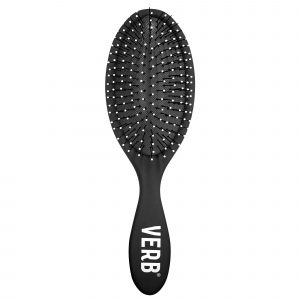 It has an easy-to-grab handle with a comfortable design. You can see more Verb Detangling Brush reviews here.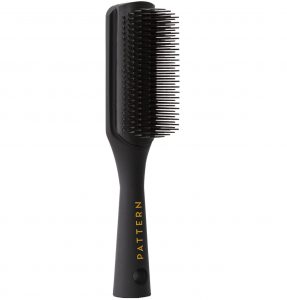 This Shower Brush is the latest addition to the Pattern Beauty hair care line. The design is heavyweight yet it's still gentle on hair.
The brush also helps curls clump better, optimizes curl definition and minimizes hair breakage. See the reviews here.
The design of Rizos Curls Pink Detangling Flexi Brush is similar to the Tangle Wrangler.
Featuring 8 flexible rows and a curved shape for comfortable use on the hair and scalp. See more pictures and reviews here.
Crave Naturals Glide Thru Detangling Brush has unique cone-shaped bristle brushes that separate hair sideways while gently unraveling even the toughest tangles.
The soft bristles massage the scalp and increase circulation as you work the brush through your strands.
It's perfect for all hair types plus it's the perfect travel size. Learn more here.
The IntelliFlex bristles on the Wet Brush Go Green Hair Curl Detangler Brush bend and flex to adjust to your curl type.
The brush body is made with 56% plant-based plastic and is suitable for all hair types. Learn more here.
Planet Luxury Eco-Friendly Hair Brush is especially beneficial for fine and/or thin hair with its extra soft flexible bristles.
The vented design also makes it a blow dryer friendly brush (on low heat). Made of eco-friendly and biodegradable materials. Learn more here.
The first time I heard about this, I was skeptical. Why would I use a brush made for a horse on my hair?
Then I remembered most horses' tails are long, shiny, beautiful, and very well kept. No reason why it shouldn't work on hair.
The comb row design of the tangle wrangler is flexible, which allows it to give way to your hair and gently loosen snarls and knots without breaking your hair or causing split ends.
The best tangle wrangler for natural hair is this brand from Bradley Caldwell.
Lasts a long time and doesn't cost the earth. It also comes in funky colors like green, blue, pink, red, and purple. Learn more here.
Conair The Curl Collective Detangling Brush has flexible, ball-tipped, and strong bristles evenly spaced to detangle all hair types without snagging.
The detangling brush is sleek with a soft-touch handle for a comfortable grip. See the reviews here.
5 Top Tips for Detangling Natural Hair Without Breakage
1. Don't Dry Detangle
It's not a good idea to dry detangle thick and curly natural hair with a brush unless you like crying or seeing hundreds of broken, little pieces of hair in your sink.
The exception to this rule is if your hair has been straightened or blow-dried.
Even though of the brushes above say you can use them on wet hair, I don't believe that would be effective for type 4 hair.
2. Remove Shed Hair and Knots Before Detangling
Work out the shed hair and knots with your fingers first then apply some type of conditioner or detangler before you detangle with the brush of your choice.
3. Detangle in Sections
Detangle in small sections irrespective of your hair type. 4 to 8 sections are a good starting point.
4. Don't Force

It
Do not force the brush through tangles. It's not a magic brush. If you come up against tangles that won't give way easily, stop and work your fingers through to loosen the tangles then try again.
5. Detangle from the Tip
Start detangling from your tips then work the brush to the roots gently.
When there are no more knots or tangles, glide the brush through from roots to tip.
Irrespective of how great (or not) the detangling brushes recommended above are, the best method for detangling natural hair remains finger detangling.
You can also try a combination of finger detangling (70%) followed by a detangling brush.
What's your favorite detangling brush? Share in the comments section.

This post may contain affiliate links which means we will make a small commission if you purchase through those links. Read full disclosure HERE.