Clove water for hair growth is becoming a popular treatment in natural hair care with a lot of naturalistas touting its efficacy.
Interestingly, cloves are one of the spices I'm currently researching and testing for Healthy Hair Care Series 6, Feed Your Hair With Herbs & Spices.
Does clove water really work for hair growth? I share the research, benefits, and how to use clove water for hair growth properly if you decide to go ahead with it.
What Are Cloves?
Cloves (Syzygium aromaticum) are aromatic flower buds that are native to the Maluku Islands in Indonesia. They are used whole or ground as a spice, flavoring, or fragrance.
Cloves are a part of the cuisine in many countries in Asia, Africa, and the Middle East.
Biryani, curries, and Pho are just a few meals prepared with cloves as one of the ingredients.
Cloves are also used in the production of clove essential oil which is widely used for health and beauty purposes.
7 Benefits of Clove Water for Hair
1. Helps Eliminate Dandruff
Cloves contain anti-inflammatory, antiseptic, and antimicrobial agents which can help eliminate the incidence of dandruff when sprayed on the scalp.
Eugenol is the most important anti-inflammatory agent in cloves which helps achieve this benefit.
2. Strengthens Hair
Clove water strengthens hair. Cloves are rich in beta-carotene.
Beta-carotene is a precursor for vitamin A which is responsible for stronger hair and helps prevent breakage.
3. Improves Scalp Circulation
With a good vitamin K content as well as eugenol, clove water encourages better scalp circulation and stimulates hair growth during the hair growth phase.
4. Prevents Premature Greying
Clove water contains a high amount of antioxidants which help increase pigment levels that give hair its color thus preventing premature greying of hair.
In this study, it was found that cloves have one of the highest content of polyphenols and antioxidant compounds among spices.
However, clove water cannot prevent grey hair. These antioxidants also help protect the hair from damage.
5. Adds Shine to Hair
The high eugenol content in cloves can help add sheen and luster to dry and dull hair.
This is good news for high porosity hair and chemically processed hair.
6. Controls Excessive Shedding
If you're experiencing excessive hair fall and shedding because of stress or some other issues, clove water can help prevent this by strengthening hair from the roots.
7. Great for Braids Spray
Clove water is great for use as a braid spray a few times a week. It prevents scalp dryness and itchiness while also refreshing your braids.
Additional nutrients from clove water that benefit the hair include iron, manganese, potassium, sodium, and iodine.
Is Clove Water Good For Hair Growth?
Ok, before you go ahead and buy all the cloves, a few things. Clove water is good to add to a healthy hair care regimen.
If you already have a good regimen, spraying with clove water a few times a week will help immensely especially if you have a dry and itchy scalp or dandruff.
Will you experience magical hair growth because you started using clove water? Highly unlikely.
Will it assist your hair on your hair care journey and help you optimize your hair growth goals? Definitely!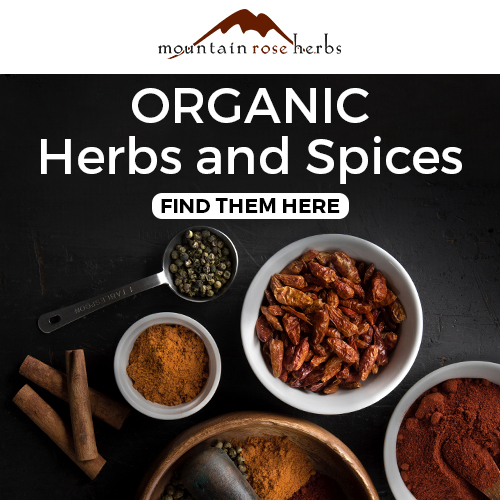 How To Make Clove Water For Hair Growth
This is one of the recipes I'm testing for Healthy Hair Care Series Book 6.
You will need plain or distilled water, cloves, lavender essential oil, and star anise essential oil (exact measurements in how to card below).
Lavender and star anise essential oils act as fragrances and mild preservatives.
Step 1 – Prep Ingredients
Pour the water into a pot and bring to a boiling point then remove from the stove.
Pound the cloves to break into smaller pieces then add them to the boiling water, stir and set aside to cool down.
Step 2 – Mix Clove Water
Once the water has cooled down, sieve the clove water and discard the cloves then pour water into a spray bottle.
Add in the lavender essential oil and star anise essential oil. Close and shake well.
Other essential oils you can use in this recipe – bergamot essential oil, ylang ylang essential oil, and lemongrass essential oil.
How To Use Clove Water for Hair Growth
After shampooing and deep conditioning your hair, spray down with clove water and work through your hair and scalp.
Squeeze out the excess clove water then proceed with the rest of your regimen.
If used as a refreshing braid spray, use it no more than 3 times a week and rinse out your braids on the weekend.
This clove water rinse should be kept in the refrigerator and will last for 7 – 10 days. Make fresh afterward.
Feed Your Hair With Herbs & Spices is available for pre-order at 30% off. Learn more here.
Clove Water for Hair Side Effects
Clove water is safe for topical use on the hair. However, excessive use can cause skin irritation.
If you've never used clove water, I recommend conducting a patch test first.
Using cloves in cooking is also generally safe but if you want to consume cloves in large amounts, you should consult your primary care physician initially.
Clove Water Before & After
Below is a before and after video from Simply Shell, one of the YouTube creators who have proclaimed the benefits of clove water for hair growth.
Where To Buy Cloves?
You can find cloves in the condiment section of any grocery store. You can also order it at the following online retailers:-
Rice Water & Cloves for Hair
I would not recommend mixing rice water and cloves for hair. Rice water is a powerful mix that mimics the effects of protein on hair.
Mixing it with cloves might be a bit too much and can achieve the opposite effect.
Use each treatment one at a time or you can alternate between the two from week to week.
Can I Leave Clove Water on My Hair Overnight?
Yes, you can leave it on your hair overnight. Clove water is a leave-in spray. Be sure to shampoo and deep condition on the weekends though.
For type 1 – type 2 hair, you may need to shampoo and deep condition earlier than that.
How Long Can You Leave Clove Water in Your Hair?
You can leave clove water in your hair for up to a week after using it as a rinse. Don't forget to shampoo and deep condition on the weekends.
If you use it as a braid spray, rinse out your braids on the weekend instead. You can wash the braids too but they might get frizzier faster.
Read How To Wash Box Braids Without Causing Frizz for more on cleansing braids.
Can Cloves Thicken Hair?
Given the high amount of antioxidants in cloves plus the other agents, it's a safe bet that clove water aids in keeping the scalp healthy which will optimize your hair growth rate and help enhance hair thickness.
I would recommend combining it with an adequate scalp massage oil for best results. 
How To Store Clove Water
You can store clove water for 7 – 10 days in the refrigerator.
Clove water is inexpensive to make so you can always make a fresh batch every week.
The natural hair ladies on Reddit have great experiences with keeping clove water in the refrigerator as well.
Final Word on Clove Water for Hair Growth
Clove water has powerful antiseptic, anti-fungal, and anti-inflammatory properties.
These properties can help immensely with dandruff, dryness, and itchy scalp while also promoting scalp circulation.
It makes a great addition to your hair care regimen but it's not compulsory. If your regimen already works for you, there's no need to jump on the clove water bandwagon.
I will cover clove oil; an aromatic essential oil derived from cloves in a separate article later on.
Pin for Later – Benefits of Clove Water for Hair Growth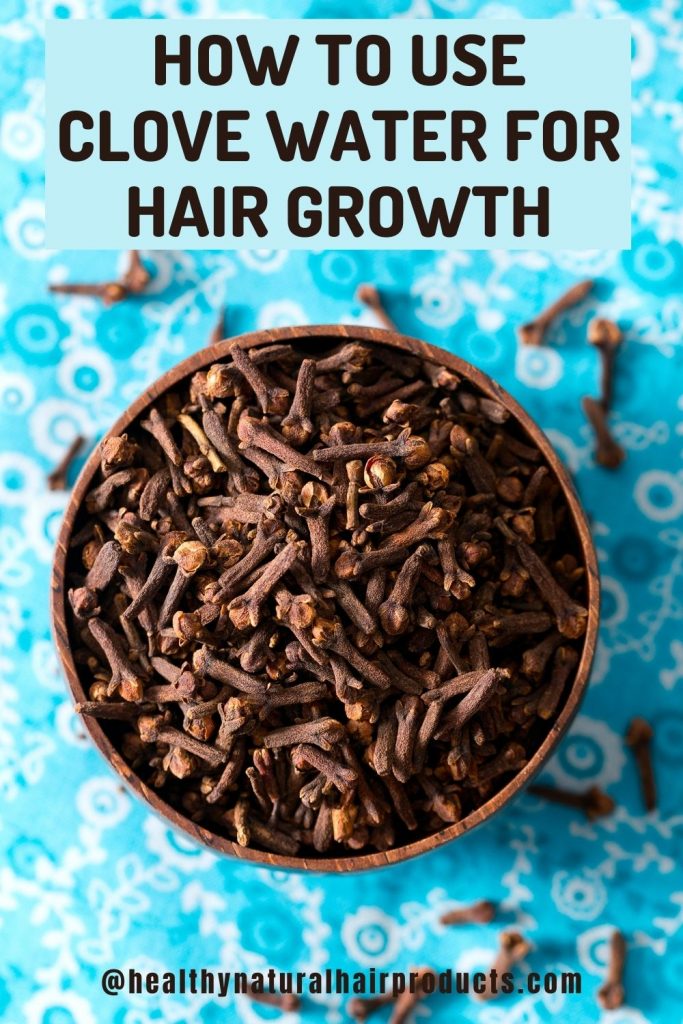 References

This post may contain affiliate links which means we will make a small commission if you purchase through those links. Read full disclosure HERE.