Learn how to wash box braids every few weeks without making them frizzy with the tips shared in this article.
In the previous article on caring for braids, I covered how to prevent itchy braids with a DIY Braid Spray.
Even while using the braid spray and experiencing no itching, you still need to wash box braids every few weeks.
This article will break down the best way to wash box braids without causing frizz or reducing the life span of the braids.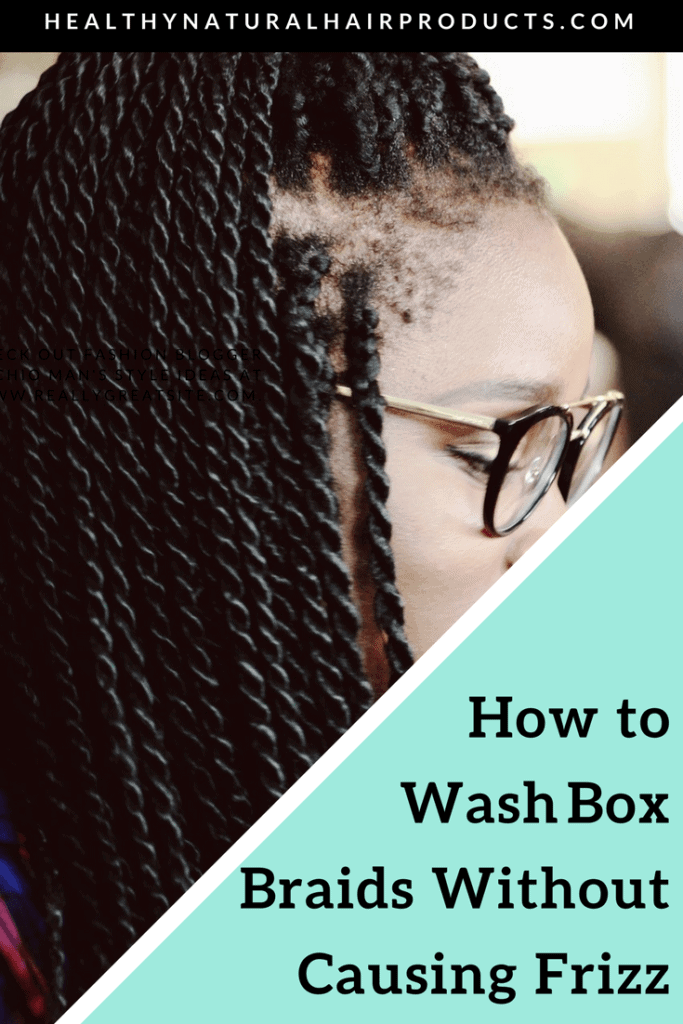 This is also an alternative way to prevent itching when used in combination with the anti-itch braid spray.
Box braids are an excellent way to protective style natural hair.
You don't have to worry about styling every morning and they last for a long time especially when well taken care of.
I wear my box braids for up to 10 weeks at a time with the tips I will be sharing below.
If you haven't installed your braids yet, you may want to check out DIY Braid Spray to Stop Itchy Box Braids.
Is it Okay To Wash Box Braids?
Yes, you should wash box braids. It's good hair care practice and it keeps your hair moisturized and your scalp area healthy and free of flakes and dandruff.
If you're wondering how to wash your braids without causing frizz and running the hairstyle, then this article is just for you.
Wash Box Braids Without Causing Frizz

– Step-by-Step Guide
Step 1 – Choose the Right Shampoo and Dilute It
When you wash box braids, you need to choose a very mild sulphate free shampoo.
I like Castile Soap and Alaffia African Black Soap for this step.
Add 3 squirts of the shampoo into a spray bottle like this one and fill up with water the rest of the way. Close and shake.

Step 2 – Choose a Moisturizing Conditioner and Dilute It
Repeat the process above with a moisturizing conditioner of your choice in a separate spray bottle.
I like Trader Joe's Tea Tree Tingle Conditioner with Peppermint and Eucalyptus and Kinky Curly Knot Today for this recipe.
Alternatively, you can also try Giovanni's Smooth as Silk Deep Moisture Conditioner. Shake and set aside.

Step 3 – Section Your Box Braids
When it's time to wash box braids, section the braids into about 4 – 5 parts depending on how large they are.
Loosely braid each section of braids then secure the tips with an ouchless band.

Step 4 – Shampoo and Condition Your Box Braids
Get into the shower and spray the diluted shampoo onto your braids and scalp generously.

Gently massage your scalp with your fingertips. Do not rub vigorously and do not agitate the braided sections.

Let the diluted shampoo run through the braids.

Rinse with lukewarm water until the water runs clean.

After rinsing, repeat the process above with the diluted conditioner. Wait 5 minutes then rinse out as well.

Squeeze the excess water out of the braids gently.
Step 5 – Dry Your Box Braids Without Frizzing
Pile the loose braids up and wrap a towel around your head then go about your business. Use a microfiber towel like Devacurl Deva Microfiber Towel.
It will take several hours for the braids to dry. Read Benefits of a Microfiber Towel & 7 Best Microfiber Towels for Natural Hair.
Once dry, undo the braided sections gently and shake out. You can spray with the anti-itch braid spray at this point.
You will find that the braids look as fresh as new. The secret here is washing box braids without agitating them.
Below is a video tutorial for washing box braids where she shares a technique similar to the method outlined above minus braiding sections.
You will notice she uses her fingertips throughout the process.
I strongly recommend sectioning your braids before washing to make them last longer and keep them frizz-free.
How Often Do You Wash Box Braids?
After installing the box braids, wash with the method above after 3 days. Afterward, wash every 2 – 3 weeks until you take down the braids.
It's also beneficial to take down the braids around your edges and perimeter and redo them yourself every 2 – 3 weeks.
How Long Should You Wear Box Braids For?
Box braids can be worn for up to 12 weeks without any issues. If you take care of them really well, you can make box braids last up to 16 weeks.
However, after 4 weeks, you should redo the edges every 2 weeks until you take them out. This is to prevent snatched edges.
Can I Wet My Box Braids in the Shower?
Wet away. Your hair and scalp will love the moisture. However, do not agitate the braids.
You can just let it drip dry once you're out of the shower then refresh with this anti-itch braid spray.
Keep in mind – this isn't something that should be done every day though.
Why Do My Braids Itch At Night?
They are likely too tight or you did not treat the braiding hair with vinegar and warm water before installing.
Read how to prevent itchy braids with a DIY Braid Spray for more on how to prevent braids itching.
Why Do My Box Braids Smell?
This is likely due to improper cleaning of the braids as well as your scalp. The kind of braiding hair used is also a factor.
I have recommended some great braiding hair here. Additionally, keep your hair and scalp clean and refresh every few days with a good spray.
How Often Should I Oil My Scalp With Braids?
I do not recommend applying oil to your scalp while your hair is in braids. Oil will cause intense itching and excessive build-up on your scalp.
It will also create a lot of lint around the braids which can cause tangling and breakage when taking down the braids.
All you need is a good braid spray for your scalp and everything will be fine till you take the braids out.
Does a Durag Help Braids?
Yes, it does. A Durag will help smooth down the frays and flyaways on braids and make your braids look super fresh.
Put it on for a few hours after washing and spritzing until your braids are dry. You'll be surprised by the effect.
BTW, you can achieve the same effect with a silk or satin scarf.
If you have any questions about washing box braids without causing frizz, ask them in the comments section.
Happy Hair Growing! 🙂

This post may contain affiliate links which means we will make a small commission if you purchase through those links. Read full disclosure HERE.