One or more of these 25 plus natural hair gifts for kids are sure to bring a smile to your little ones' faces this Christmas.
It's not always easy to find the perfect gift that reflects their cultural heritage and beauty. Curly haired kids are going to love these creative and wonderful holiday gift ideas.
I've compiled this comprehensive Christmas gift idea for kids with this in mind.
The natural hair gifts list for kids features t-shirts, picture books, dolls, and more that reinforce pride in how they look and their natural hair texture.

25 Plus Natural Hair Gifts for Kids
Cute girl's t-shirt with afro puff imprint. The t-shirt has a slim fit and is available in seven colors including blue and pink. Get the Afro puff Girl's T-Shirt HERE.
Gorgeous black girl magic onesie for an infant. Fits are available for up to 18 months.
Just perfect for any baby wardrobe. Get the Black Girl Magic Infant Onesie HERE.
This basketball drawstring backpack can be personalized with any name you want.
The backpack is made from durable material and is suitable for the gym and school as well.
Get the Boys Personalized Basketball Drawstring Backpack HERE. You can also get a ballerina version HERE. Free worldwide shipping.

Cute ballerina illustration pillowcase made of durable satin material. It's never too early to start pampering those tresses.
Get the 3D Rose Ballerina Little Girl Illustration Pillow Case HERE.
This eco-friendly hairbrush and comb set is made out of soft goat hair and tea wood.
It is hypoallergenic and very gentle for use on baby and toddler hair. It also helps prevent cradle crap and gently massages the scalp.
Get the Baby Goat Hair Brush and Comb Set HERE.
Boy's curly hair don't care t-shirt available in grey and white. Available for ages 2 until 7 years old. Get the Curly Hair Don't Care T-Shirt HERE.
An adorable foldable pink umbrella with a cute ballerina image monogrammed on. 
Free worldwide shipping is provided. Get the Girls Pink Foldable Umbrella HERE. 
An inspirational coloring book depicting African-American girls in various career fields. 
This coloring book will entertain while also showing your precious one the endless possibilities in life.
The coloring book features 32 illustrations. Get the I Can Be Coloring Book HERE.
This girl's t-shirt has a cute little girl in two afro puffs emblazoned on it with the words "kinky hair don't care."
Short sleeve crew neck available in different sizes as well as two colors. You can also customize the colors if you prefer.
Get the Kinky Hair Don't Care Girls T-shirt HERE.
18-inch African American school boy doll. The clothing is removable and the hair can be styled. The doll is also poseable.
Get the My Life as a School Boy Doll HERE.
Nella the Princess Knight picture book is based on Nickelodeon's animated pre-school series sending the message that there's more than one way to be a princess.
The picture book is 32 pages and there's a special promotion going on currently on Amazon.
See the deal for Nella the Princess Knight picture book HERE.
Still on Nella, this style me doll set also contains a sword and a comb, and the doll has moveable arms and legs.
Pair it with the picture book and be a hit with your little princess. Get the Nella the Prince Knight Style Me Doll HERE.
This toy comes with Nella the Princess Knight tiara and motion-activated sparkle sword with 10 phrases.
AAA batteries included. This is sure to keep your princess entertained for hours. 
Get the Nella The Princess Knight Tiara and Motion Activated Sparkle Sword HERE.
Premium sleep bonnet made of high-grade satin material to protect hairstyles and hair health.
The bonnet is adjustable to fit thick hair and is lightweight for comfort. Get the Premium Satin Bonnet for kids HERE.
This premium satin bonnet has a cute curly-haired girl blowing bubble gum imprinted on it with the words – My Curls Be Popping!
The bonnet is white on the outside and pink on the inside. It's a large size and fits kids up to 7 years old. Get the satin hair bonnet HERE.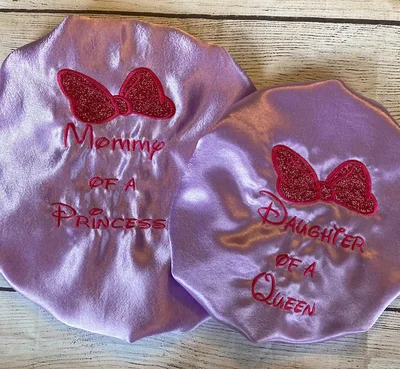 Get these beautiful matching luxurious satin sleep bonnets for yourself and your little one.
Mommy's bonnet reads "Mommy of a Princess" and daughter's bonnet reads "Daughter of a Queen" in embroidered text with a bow on top.
The bonnets are available in 10 stylish colors and sizing starts from newborns all the way to adult size. Get the bonnets HERE.
Girl's personalized book bag featuring different designs and colors. Each character wears a different natural hairstyle.
Choose from the six different options and colors available HERE.
Another satin sleep bonnet for older kids featuring Doc McStuffins. Adjustable with the gorgeous white bow in the front.
If Doc McStuffins is your child's favorite series, she's sure to love this. Get the Doc McStuffins Satin Sleep Bonnet HERE.
Natural haired doll capturing traditional sub-Saharan heritage facial features and skin tone. This doll series encourages children to embrace their hair and culture.
Her name is Azeezah and she comes with her outfit, bag, jewelry, pet dog, and ownership booklet. Get Queens of Africa Doll – Azeezah HERE.
This Queens of Africa doll is named Wuraola and hails from the Yoruba tribe in Nigeria.
Like Azeezah, she comes with her traditional outfit, bag, jewelry, pet dog, and ownership booklet. Get Queens of Africa Doll – Wuraola HERE.
Nneka hails from the Igbo tribe, which is also in Nigeria. Nneka comes with her traditional outfit, bag, jewelry, pet dog, and ownership booklet.
Get Queens of Africa Doll – Nneka HERE.
Gorgeous hair bows made out of African kente cloth. These fashionable bows come in different designs and can be pin on or adjustable strap.
They can also be used as bow ties for little groomsmen. Get the Red Black Gold Kente Print Hair Bow HERE.
A whimsical storybook celebrating the beauty of African-American hair. Keyana discovers the beauty and magic of her special hair in this lovely book.
This book has been on the market for 20 years but now has a fresh and updated cover. Get I Love My Hair HERE.
I hope you were able to find something just right for your little princess or prince on this list.
The next few articles will feature natural hair gift ideas for ladies and natural hair themed gift ideas.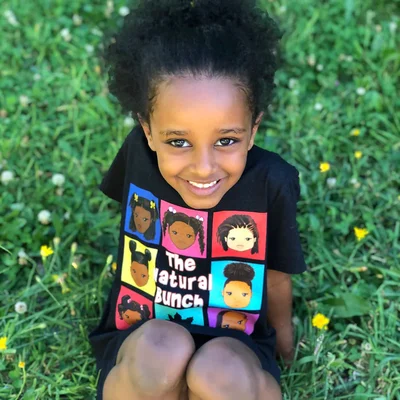 All curly hair textures and styles as well as skin tones are celebrated on The Natural Bunch Tee.
Each tee is made from 100% combed and ringspun cotton and 3T up to X-large. Get The Natural Bunch Tee HERE.
Your little one is going to adore this colorful and personalized hair brush with rubber tips in a cushioned pad so it doesn't jab at the scalp.
The brush is available in purple, pink, aqua, and peach, and the font color for the name can be changed as well. Get the personalized hair brush HERE.
The Loc Box Hair Care Gift Set is the perfect gift for kids with locs. It contains everything needed to care for and nature kids locs.
The set comes with a Loc & Natural hair butter, hair oil, shampoo, and conditioner, and refresher spray.
The gift set is shipped in a black box ready to gift as it is or wrap a lovely ribbon around it and top with a bow. Get The Loc Box Hair Care Gift Set HERE.
Inspire your little ones with this unique and natural haired miniature tennis player crotchet doll.
The doll is outfitted in a purple striped dress with a purple headband and has her own accessories.
The doll can be used as a story piece or as a decorative piece on a dressing table. Get the tennis player crotchet doll HERE.
This notebook is imprinted with a curly-haired girl in a purple dress next to a collection of empowering quotes and sayings.
The notebook has faux gold accents, is lined, and has 118 pages. Several interior pockets for storage of notes, cards, and more are also included.
The notebook is spiral bound. Get the black girl notebook HERE.
You can also get the same image and text on a black pride t-shirt HERE. They would be perfect together.

Subscription Boxes for Black Girls
While these are not exactly natural hair gifts, they make perfect Christmas gifts as well.
The subscriptions boxes focus on empowering and inspiring black girls. You can order a one-off box for the holidays or you can maintain the subscription for the quarter or year.
The Black Girl MATHgic box is perfect for STEM inclined girls with an emphasis on the "M" part.
Curated for girls on the 3rd – 8th grade math level, each month features 3 – 5 math items to bring the subject to life.
Items include math lessons and activities, fun educational items, a math affirmation, profile of a woman mathematician and much more!
Use code MATHISFUN at checkout to get 10% off your first box HERE.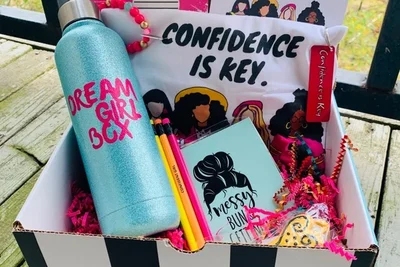 The Dream Girl Box was created by an educator who believes in empowering young girls.
The box ships quarterly and features themed items, school supplies, bath products, accessories, and more!
The box is best for girls aged 6 – 16 years and helps with goal setting and life skills. Use code DREAMGIRLS at checkout to get $5 off the first box HERE.
Girl Gang Strong Subscription Box is curated for tween & teen girls and features 5 – 8 products to help girls invest in themselves.
Products featured include stationery, skincare, health and beauty products, hair accessories, and educational products.
The box ships every 2 months. Get the Girl Gan Strong Box HERE.
More Natural Hair Gifts
Looking for something for adults instead? Check out:-
Happy Holidays!


This post may contain affiliate links which means we will make a small commission if you purchase through those links. Read full disclosure HERE.