Thinking of the best natural hair gift ideas for the curly-haired person in your life?
Here is a compilation of 37 plus natural hair gift ideas for the holidays and other special occasions throughout the year.
This is the next article in the natural hair gift ideas series. Be sure to sign up for the mailing list so you can be notified whenever a new natural hair gift guide idea goes live.
37 Plus Natural Hair Gift Ideas for the Holidays 
The Healthy Hair Care Series features 5 books with 2 more in the development stage.
The series focuses on healthy hair care, growth, and nurturing using various proven and tested methods. The series includes:-
How to Grow Your Hair Healthy and Long with Natural Oils (Book 1)

The Ultimate Hair Growth Guide: Stop Hair Loss. Regrow Bald Spots. Fill in Thin Areas (Book 2)

Tea Rinsing Secrets for Healthy Hair Growth (Book 3)

365 Days of Moisture for Dry & Parched Hair: Best Practices, Products & Recipes for Perfectly Moisturised Hair (Book 4)
Natural Butters for Hair: A Guide for Creating Recipes for Healthy Hair (Book 5)
Feed Your Hair with Herbs & Spices (Book 6) – coming soon
All the books in the Healthy Hair Care Series have been rated an average of 4.8 out of 5 across multiple platforms.
If you know someone struggling with growing healthy hair or a newbie to natural hair care, then the Healthy Hair Care Series makes a perfect Christmas gift.
Get 1, or the entire series in paperback format HERE while stocks last. 
This is the latest trend in the hair care world. The manufacturers claim that this hair styling set works using air.
It also contains intelligent heat control to prevent extreme heat damage while styling.
The set contains the pre-styling dryer, 4 air-wrap barrels in different sizes, 1 firm and 1 soft smoothing brush, and 1 round volumizing brush.
It comes with a hefty price tag currently but if it achieves styling without heat damage, it's a winner.
Get the Dyson Airwrap Complete Styler Hair Styling Set HERE.
Related Content: Dyson Airwrap Review 2023 Plus Before and After Pictures
Birchbox collates 4 – 6 full-sized top beauty brands (makeup and skincare) every month to be delivered right to your recipient's door.
You can customize the box according to your recipient's taste too. Three different levels starting from $17/month and ship free HERE.
Ouidad's travel set kits are most in every naturals travel bag. The travel set kit contains a collection of Ouidad's best products for different curl types. You choose!
Each product is 2.5 oz and the kit comes in a handy storage bag. Get it HERE.
The Bio Ionic 10X Flat Iron is equipped with sonic vibrating plates for faster and smoother results in only 10 minutes.
It's also equipped with a proprietary volcanic mineral complex that emits negative ions for hydrated strands and styles hair.
It has universal voltage so it can be used in most countries around the world. Get it HERE.
Related Content: What is a Vibrating Flat Iron?
CurlFomers were a big hit a few years ago and still remains a favorite of many naturals.
It's a great way to style and stretch natural hair without heat. CurlFormers are available for different hair lengths from ear length to waist-length hair.
Keep the hair length of the person you're shopping for in mind before buying. You can also purchase a slightly longer length to accommodate future hair growth.
Each standard size comes with about 30 curlers with 2 styling hooks in a handy storage pouch. Get the pack for medium hair length HERE.
Cocotique is a monthly subscription box that features trial and full sizes of some of the very best natural hair products on the market.
Gift a Cocotique subscription to your loved one this Christmas. You can get one month or multiple months. Learn more about Cocotique HERE.
Featuring natural and organic ingredients, this handmade hair care line is very popular on Etsy.
This 3 piece gift set includes the marshmallow detangler/leave-in conditioner, whipped hair and body butter, and marshmallow gelley.
It includes some of my absolute favorite ingredients such as marshmallow root, guar gum, slippery elm, aloe vera gel, and sweet almond oil.
Get the Amore Hair and Body Co 3 Step Curl Kit HERE.
Carol's Daughter monoi repairing collection features monoi oil, which is coconut oil infused with the flowers of the tiare, a gardenia from Tahiti.
Related Content: Strengthen Weak and Damaged Hair with Monoi Oil
The 3 piece starter kit includes the monoi repairing sulphate free shampoo, monoi repairing conditioner, and monoi repairing hair mask.
Get Carol's Daughter Monoi Repairing Collection 3-Piece Starter Kit HERE.
A microfiber towel is the best way to dry natural hair. It prevents frizz and damage. It also absorbs moisture faster.
This gift set includes a microfiber towel as well as a wooden brush. Get the Evolatree Anti-Frizz Microfiber Hair Towel & Wooden Brush Set HERE.
Related Content: Benefits of a Microfiber Hair Towel for Curly Hair
This Softhood Conditioning Set is a cute little haircare collection for natural hair.
The set contains the HairFlair Deluxe Softhood® hairdryer attachment available in 3 colors, the style and shine oval brush and the Styleformers Nourish Serum.
The set includes a stylish storage bag. Get the conditioning set HERE. Makes a great stuffing stocker. Orders over $25 ship free too!
The Hask brand features argan oil prominently in its product line and is a favorite among naturalistas.
This gift set features repairing shampoo, repairing conditioner, healing shine hair treatment, and dry shampoo.
Get the Hask Argan Oil Repairing Collection Gift Set HERE.
This tourmaline salon hair dryer features tourmaline and ionic nanotechnology, which transforms the dryer's airflow into a hydrating spa treatment.
2 Speed settings, 4 heat options and dries hair up to 50% faster than regular dryers meaning less likelihood of damage.
The dryer has a stylish pink hood too. Get the Hot Tools Professional Tourmaline Ionic Salon Dryer HERE.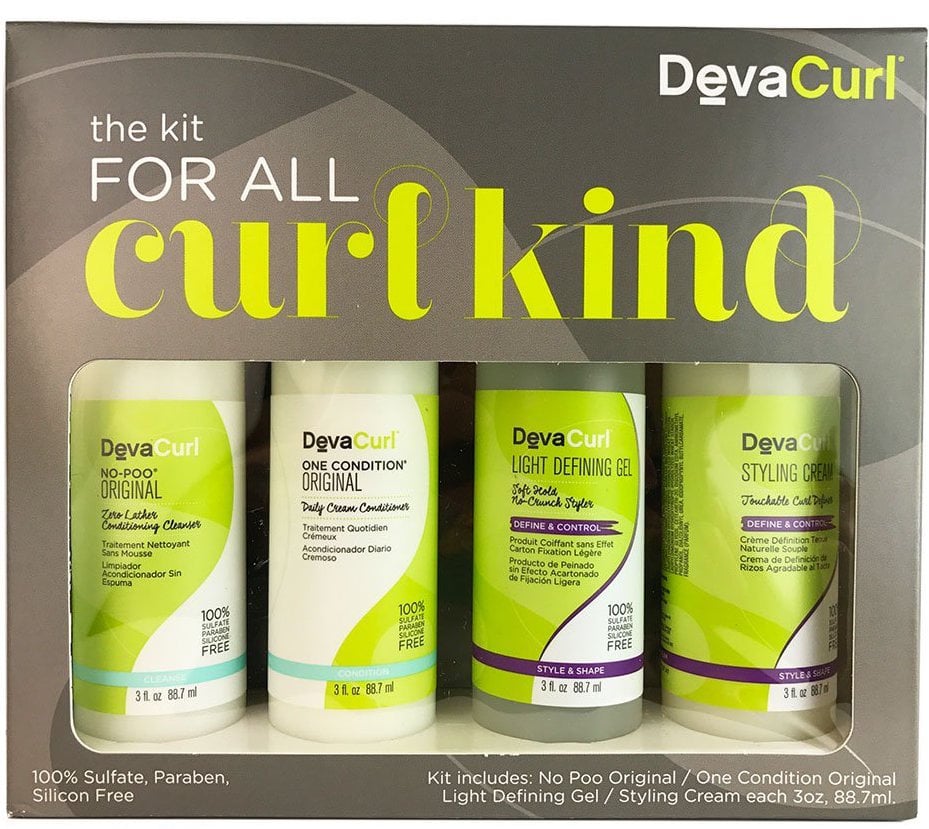 This DevaCurl kit contains trial sizes of No-Poo Zero Lather Conditioning Cleanser, One Condition Original Daily Cream Conditioner, Styling Cream Touchable Curl Definer, and Light Defining Gel.
Comprised of botanical and nourishing ingredients, this kit is sure to please any curlista. Get the DevaCurl Kit for All Curl Kind HERE.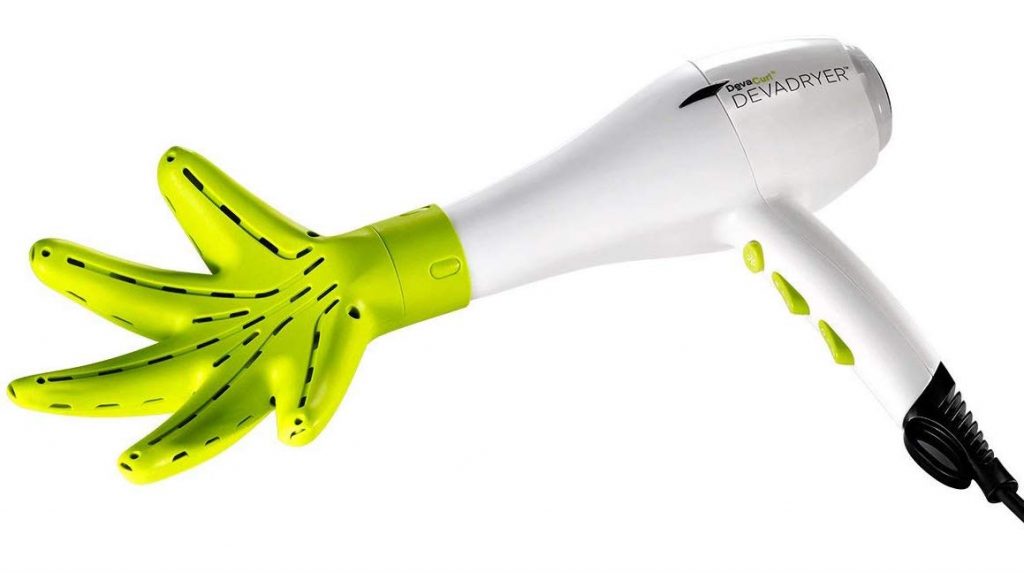 The DevaCurl DevaDryer with DevaFuser is a patented hand design, which provides 360-degree airflow.
It's designed to gently dry and define the curls without causing frizz.
Get the DevaCurl DevaDryer with DevaFuser HERE. If the person you're shopping for already has a hairdryer, you can buy the DevaFuser attachment separately HERE.
Essential oils are part of any healthy hair care regimen. With an army of choices out there, this gift set contains 6 starter sizes.
The gift set contains 1 10ml bottle each of lemongrass, peppermint, orange, lavender, eucalyptus, and tea tree essential oil.
Also great for aromatherapy purposes. Get the Lagunamoon Essential Oils Gift Set HERE.
This gift box allows you to build your own sample gift box from a retinue of products. You can choose from 2 – 8 samples.
Samples feature products such as the clay hair mask, hair butter, and flaxseed custard. Get the Mane Queen Build Your Own Sample Box HERE.
Holiday gift set featuring 1 full size each of the curl whip, curl custard, and curl volumizer. It comes prepackaged in a gorgeous holiday gift bag.
Get the My Cheeky Curls Holiday Gift Set HERE.
This snack pack is a great way to test a range of products from the popular Oyin Handmade line. The snack pack contains 1 sample size each of:-
Honey Hemp Conditioner

Greg Juice Leave-in Hair Tonic

Hair Dew Creamy Quenching Lotion

Burnt Sugar Pomade

Shine & Define Coaxing Serum
Get the Oyin Handmade Snack Pack HERE.
The Q-Redew Handheld Hair Steamer hydrates, detangles, stretches, and reshapes the hair.
It's a great way to get moisture into the hair in-between regimen days without saturating hair with water. Also handy for the woman always on the go.
Get the Q-Redew Hand Held Steamer HERE.
This is a great product for preserving hair color and making it last longer between sessions.
The color extend gift pack contains color extend shampoo, color extend conditioner, and control addict high-hold hairspray.
Get the Redken Color Extend Holiday Gift Set HERE.
This is a tabletop steamer that also includes a facial steamer. The tabletop steamer contains a built-in ozone generator.
The ozone generator is supposed to control the release of negatively charged oxygen. Get the Secura S-192 Hair and Facial Steamer HERE.
Shampoo bars are a novel way to clean hair. A shampoo bar is basically a shampoo in bar form but usually has all-natural ingredients.
This shampoo bar set is 3 shampoo bars made out of various ingredients such as neem, coconut, oat milk, rosehip, and more.
The shop owner offers 9 different combinations of shampoo bars to choose from. You can also customize the order. Get the Shampoo Bar Set HERE.
This natural hair care bundle contains full-sized jars of moisturizing deep conditioner, replenishing deep conditioner, mango shea cocoa hair lotion, detangling cream, green tea cleansing conditioner, and flaxseed gel/detangler.
Each box comes with 3 products each so you can pick and choose from the available product line. Get the Terrene Fusions Natural Hair Care Bundle HERE.
Another popular range for curly-haired ladies. The moist collection includes:-
Moisture Rich Sulfate-Free Shampoo

Triple Moisture Rich Conditioner

Honey Miracle Hair Mask

Butter Cream Daily Moisturizer
Get the TGIN Moist Collection HERE.
This silicone collapsible hair diffuser is built to stretch and shrink to fit almost any hair dryer that accommodates attachments.
It is also collapsible so it can fit in a drawer or bag for traveling. A novel gift that makes a great stocking stuffer.
Get the Curly Co. Collapsible Hair Diffuser HERE.
This natural hair care gift set features four gorgeous products – goat milk shampoo bar, whipped hair butter, aloe leave-in conditioner, and hydration deep conditioner.
Get the Unconditional Love Natural Hair Care Gift Set HERE.
Chocoholic gorgeousness in this gift pack contains a chocolate shampoo bar, chocolate milk conditioner, and chocolate hair butter.
Products contain fantastic ingredients like raw cacao, cocoa butter, kukui nut oil, babassu oil, pumpkin seed oil, and carrot seed oil.
Get the Unconditional Love Chocolate Lovers Gift Set HERE.
The flexible curling rods set is made out of lightweight foam and is great for creating curls on wet or dry hair.
The set includes 42 flexible rods of different sizes and colors. The lightweight composition of the foam means you can keep them in overnight.
The flexible rods gift set is shipped in a transparent storage case. Get it HERE.
PuffCuff provides a valuable tool that helps naturals wear their hair in a bun without putting undue strain on the scalp and crown area.
The PuffCuff Family Pack contains 7 PuffCuffs in various sizes plus a complimentary drawstring back to keep them all.
All PuffCuff products come with a free lifetime warranty. Get it HERE.
This Satin Lined Beanie Bundle comes in a luxury gift set of 3. Natural hair is protected in all types of weather without putting undue strain on the edges!
The satin-lined beanies are available in 10 colors. Just tell the creator which colors you prefer when you check out. Get it HERE.
This is a totally indulgent scalp massager that makes a perfect stocking stuffer.
The scalp massager comes in a cool blue color and is designed to fit perfectly into the hand. It also has a string for hanging in the shower. Get it HERE.
Briogeo also has a whole line of scalp care products to match this scalp massager if you want to go all the way with the product theme. See the scalp care line HERE.
This baseball hat is satin-lined to prevent tangling, frizzing, breakage, and shedding. It is also adjustable so you know it'll fit every fro size!
The satin-lined baseball hat is available in navy blue, black, denim, and mustard. Get it HERE.
This Dreadlocks Maintenance Self Care Kit is a great gift for locked hair in need of some extra love!
This self-care kit contains a shampoo brush, extra-large shower cap, loc ties, lint lifter, and ponytail holders.
It comes in a drawstring bag embossed with the message "Love My Locs." Get it HERE.
Pattern Beauty's gift kit contains its most popular ultimate hydration range.
It includes handy sizes of hydration shampoo, heavy conditioner, and leave-in conditioner.
Each tube is refillable for eco-conscious curlies! The kit comes in a cute white bag. Get it HERE.
Headwraps are a versatile and beautiful way to protective style natural hair.
You can wear them in so many ways and they come in a wide range of colors and designs.
They make a bold and unique fashion statement too! Find a bold collection of Headwraps from independent artisans on Etsy HERE.
The Carol's Daughter Goddess Strength Hair Care Gift Set is a very popular gift option.
The goddess strength line contains products that make curly hair up to 15X stronger from the first use. It's suitable for type 2A – 4C hair too!
The set contains a fortifying shampoo and conditioner, leave-in cream, and hair and scalp oil. GET IT HERE.
These claw clips are made in a square shape for a convenient fit for all hair types and hairstyles.
They are available in a set of 6 and you can mix and match in various color combinations. They retail for under $10. GET IT HERE.
This flaxseed deep conditioning mask has a unique design and is lined with flaxseed which helps maintain consistent heat throughout the treatment.
Large design that's perfect for thick curly hair and the cap is available in three colors. GET IT HERE.
The next article in the holiday gift guide series will feature natural hair-themed gifts that aren't hair care products so you'll have even more gift and stocking stuffer choices.
Thinking of something for the kids? Check out 21 Plus Holiday Gift Ideas for Curly-Haired Kids.
Happy Holidays!

This post may contain affiliate links which means we will make a small commission if you purchase through those links. Read full disclosure HERE.