When it comes to no-heat hairstyles, Curlformers is one of the best options for natural hair.
In this article, I've compiled together and answered the usual questions readers have about using Curlformers for hair and a few hacks for getting the best out of your Curlformers hairstyles.
Curlformers burst onto the hair care scene in 2007 as a solution to straightening curly hair without causing any damage.
The brand was originally created by Hair Flair for professional use but it quickly became popular with naturalistas looking to avoid all heat or use as little heat as possible.
The product line also includes Waveformers for wavy hair, styling products, and several accessories.
Curlformers for Hair FAQs
1. What Are Curlformers Made Of?
Curlformers are made of soft and thin latex-free material in the form of woven mesh.
The plastic material used is flexible and bounces back into shape when stretched or bent. The material is also sturdy enough to withstand heat from a hair dryer.
2. How Do Curlformers Work?
Curlformers work by curling hair without the need for curling irons or other heat appliances.
A small section of hair is inserted into the hook which comes with the package. The hook is then pulled through each Curlformer to the end. The hook is then removed.
Afterward, the hair is left to air dry. Once dry, the Curlformers are gently removed and hair can be styled effortlessly.
The process can also be moved along if you're in a hurry with a softhood dryer which provides indirect heat.  
3. How to Use Curlformers
Curlformers come with a hook. You insert the hook into each Curlformer then hook the base through a little patch of hair and pull the hair through it then remove the hook.
I have included more instructions as well as a how-to
video below.
You can create corkscrew curls, spiral curls, and barrel curls with Curlformers.
Corkscrew curls are my favorite because they are small and tight and the style lasts longer. They also stretch curly hair to the max.
Below is an image showing the process for creating corkscrew curls with Curlformers.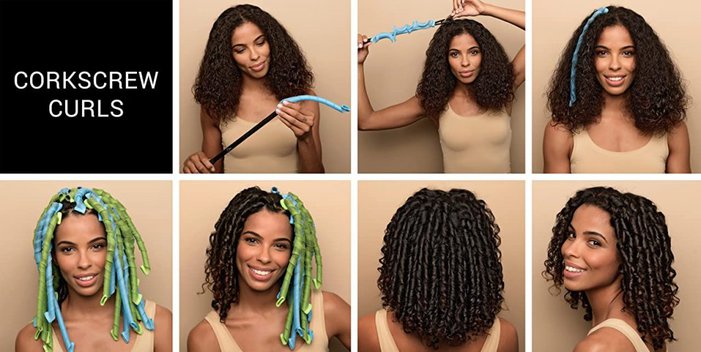 Spiral curls are a cross between corkscrew curls and barrel curls. They create springy, vibrant, and loose curls.
Below is an image showing the process for creating spiral curls with Curlformers.
Barrel curls have a bigger diameter and are bouncier and fuller than spiral curls.
Below is an image showing the process for creating barrel curls with Curlformers.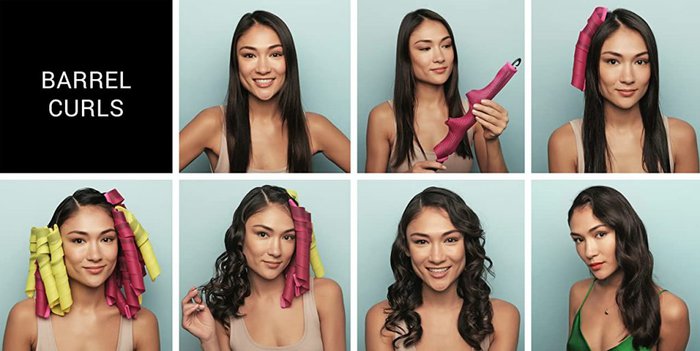 4. What Size Curlformers Do I Need?
The size of Curlformers required depends on your hair length and the type of curls you're trying to achieve.
Curlformers can be used on all hair types and lengths.
Make sure you get the right type for your hair length. Better too long than too short. If it's too short, you'll have your hair sticking out of the ends.
RELATED CONTENT: 13 TYPES OF HAIR ROLLERS FOR NATURAL HAIR
5. Are Curlformers Bad for Your Hair?
On the contrary, Curlformers are excellent for hair. You can create several different hairstyles without the use of heat appliances.
You can also stretch all natural hair types without any heat whatsoever although minimal indirect heat is fine and won't cause any damage.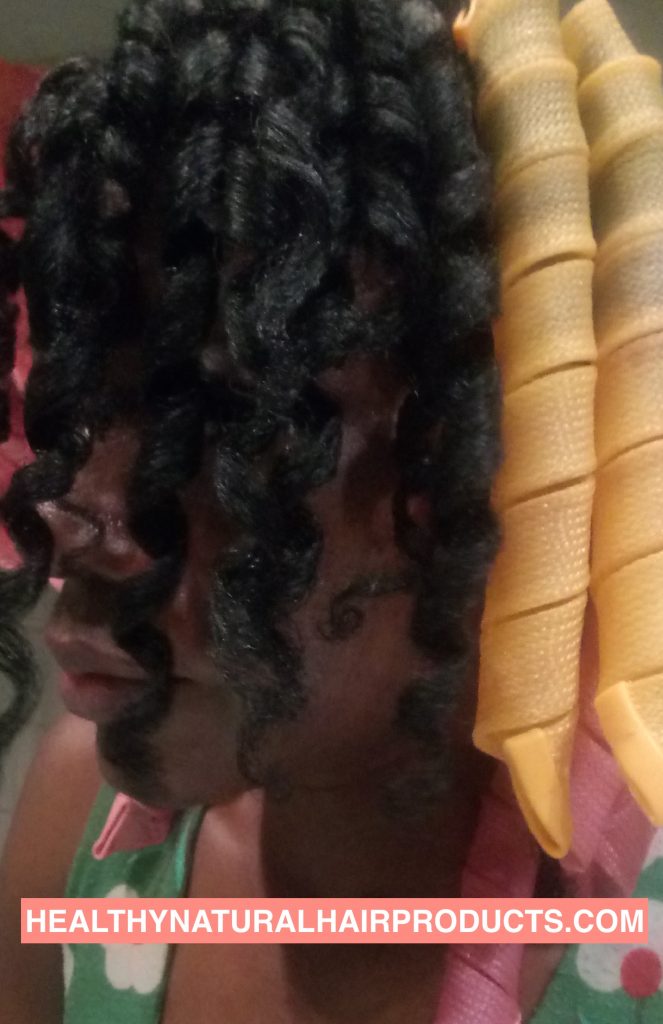 6. Are Curlformers Worth It?
A set of Curlformers is a bit expensive but the good news is they will last forever. How long do they last?
I bought mine in 2011 and they're still going great 11 years later. I'd say they've more than paid for themselves by now.
Below is a pic of my spiral Curlformers which I last used a few months ago. They still look as good as new.
I'd say Curlformers are definitely worth it plus you can also style your wigs with them BTW.
7. Are Curlformers Comfortable to Sleep In?
Curlformers are very uncomfortable to sleep in. I learned that the hard way the first time I used them.
Despite wearing them in two buns on each side of my head, they were hideous to sleep in.
I tossed and turned all night and woke up with a severe headache. To summarize, don't do it. Lol.
Put the Curlformers in early in the day so they'll dry before bed and if you don't have time to wait, apply indirect heat with the Softhood Dryer.
The Softhood Dryer method takes about 45 – 60 mins on medium heat and 30 minutes on high heat.
8. Are Curlformers Easy To Use?
There is a learning curve to using Curlformers. The first 2 to 3 times I used them, I almost cried but as time went on, I got the hang of them.
It takes me less than an hour to put them in now. The trick is to make sure you got the little section of hair properly in the book before pulling it through each Curlformer.
9. Do Curlformers Work On Dry Hair?
Curlformers will not work on dry hair. It is not possible to pull dry hair through the Curlformers without causing some type of damage. You need to wet your hair for the best results.
If you don't want to run through your full regimen, you can wet your hair a little with some diluted hair milk and a little bit of oil for a quick style.
10. Do Curlformers Damage Your Hair?
Curlformers don't damage the hair. However, if you apply them incorrectly, you can yank out large amounts of hair and cause breakage.
If you meet resistance while trying to pull the hook through the Curlformer, stop immediately.
You have too much hair on the hook. Reduce the amount of hair and try again.
11. Do Curlformers Work On Straight Hair?
Curlformers work on all hair types as long as you apply the right products before putting them on and allowing them to dry before taking them down.
The style might not last as long as it would on textured hair but you can still use them on straight hair. Corkscrew Curlformers probably work best for straight hair.
12. How Long Should I Leave Curlformers In?
As long as it takes them to dry and the drying time will depend on your hair length, the size of the Curlformers, and how many products you applied.
If you choose to air dry, probably 4 – 6 hours. If you use the Softhood method, they'll be dry in less than an hour.
Make sure your hair is completely dry before you remove Curlformers. If you remove them while still damp, you will end up with a frizzy mess.
13. How Long Does Curlformers Last?
A Curlformers set can last up to 5 days if you maintain it properly and put it up in a pineapple every night.
You can also fluff it out into a high bun for a few days once you're done with the style.
14. What Products to Use With Curlformers?
The products you use with Curlformers depend on your hair type and needs but below are some best tips for choosing the right products:-
Use a diluted setting lotion. If your hair starts getting dry before you finish installing the Curlformers, wet it with more setting lotion.
Include a bit of liquid leave-in like Mielle Organics White Peony Leave-in. You can apply a little bit of light oil like grapeseed oil or sweet almond oil. Check here for more liquid leave-in conditioner ideas.
Don't be too heavy-handed with product application otherwise, it will take your hair forever and ever to dry.
15. Can You Use a Hair Dryer With Curlformers?
Yes, you can use a hair dryer with Curlformers. Just attach the end of the Softhood to the end of the hair dryer and cover your head with the hood, sit back, and relax.
This method produces indirect heat to dry your hair so there's very little chance of heat damage.
If you meant using a traditional hair dryer, you can but the chances of heat damage are increased.
16. How Many Curlformers Do I Need?
A pack of Curlformers comes with 30 – 40 rollers and 2 hooks. You will need about 1.5 packs or even more so 2 full packs are a safe bet.
If you want the curls to be quite small then definitely buy 2 full packs.
17. Where to Buy Curlformers?
You can buy authentic Curlformers on their Amazon store HERE. Ships free with Amazon Prime.

This post may contain affiliate links which means we will make a small commission if you purchase through those links. Read full disclosure HERE.