Wig grip headbands are a game-changer for those who protective style with wigs and I break down why in this article and review my experience with wig girps.
I talked about protectively styling in braided wigs a few months ago. I usually wear my hair in twists then secure the wig with bobby pins.
However, in recent months, I discovered something new – wig grip headbands.
When I first saw the ad, it came across as a flimsy piece of material and didn't look like it could do much.
However, the model in the ad nearly knocked her head off her neck to prove it wasn't a gimmick so I took the plunge.
It wasn't expensive. I figured if it didn't work, I would leave a review accordingly and move on with my life.
Before you jump into the article, be sure to check out the resource library which includes freebies for naturalistas. Learn more HERE.
This post may contain affiliate links, meaning we will make a small commission if you purchase through those links. Read full disclosure HERE.
What is a Wig Grip Headband?
A wig grip is a headband made out of adhesive material that keeps your wig secured to your head.
The wig grip headband will prevent your wig from slipping around your head and eliminates the need for clips, wig combs and wig glue.
That is a revolutionary idea for wig wearers. No more snatched edges or nape areas with a wig band. No more tension headaches.
This is the main reason that made me order one after seeing the reviews and the ads.
How Do Wig Grip Bands Work?
So when my wig band arrived, it did look as flimsy as it looked in the ads and I was skeptical it would do anything but I was ready to give it a go.
After taking it out of the pack, I washed it in lukewarm water and detergent and hung it out to dry.
The secret is in the fabric. The wig grip band is made out of a soft velvety fabric, which has a grain.
This grain allows the wig to adhere to the fabric when pulled in the grainy direction.
How Do You Wear a Wig Headband?
After my wig grip headband dried, I was ready to give it a go. It has a velcro closure on the ends that keeps it in place on your head.
I fastened the wig grip headband around my head, still skeptical.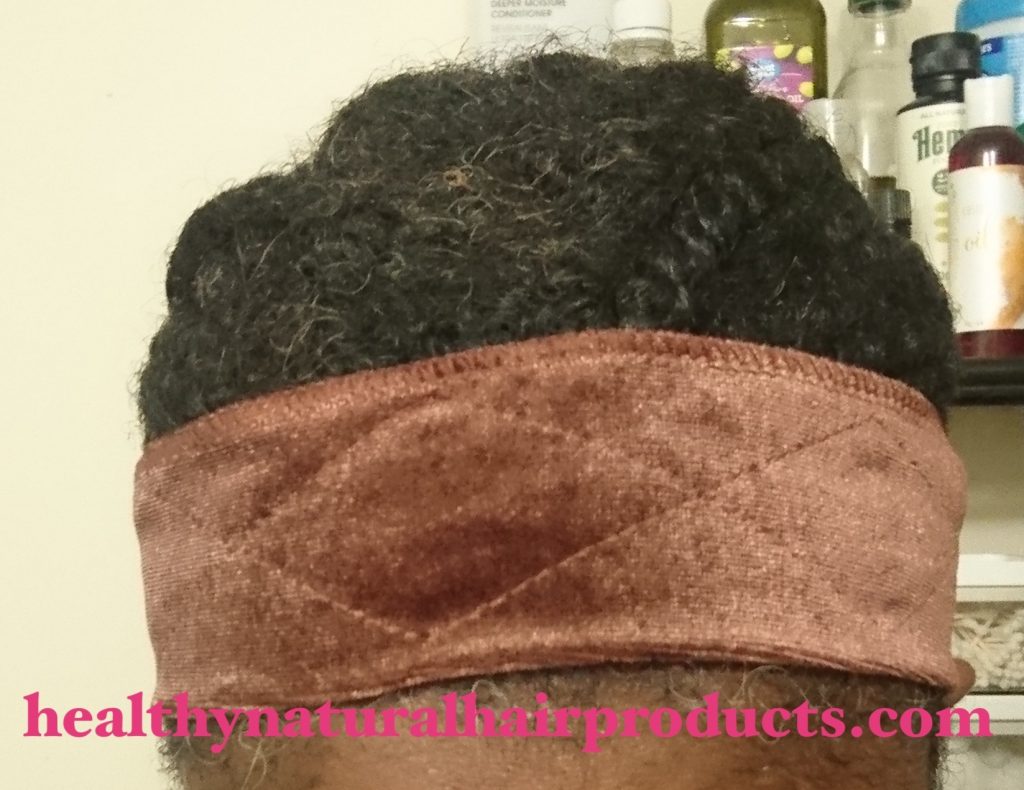 I then slipped my wig on. Usually, when I put my wig on, it moves around until I secure it with bobby pins.
In this case, that did not happen. I yanked on the wig and it stayed in place. Excited, I rearranged the wig properly and did exactly what I saw in the ad.
I started yanking my head around with the wig on but without bobby pins and that wig did not move. It stayed in place.
Y'all, this wig grip headband is the truth. If you're a wig wearer, order a wig grip headband with the quickness. This is a game-changer.
I went grocery shopping with my braids wig on and it stayed in place till I returned from the store.
Wig grip headbands aren't a new thing but for some reason, they only came onto my radar this year. I give this a resounding 10/10.
What Colour Wig Grip Should I Get?
Wig grip headbands are usually available in 3 colors – black, tan, and brown. I went for the closest color to my scalp – brown.
Advantages of Wig Headbands
No more headaches from tight wigs placing tension on your edges.

No more bald spots on your edges or nape from wig combs or wig glue.

Keeps your wig securely in place no matter what. Seriously, someone would have to stand on your neck to get it off your head.

Due to the adjustable velcro fastening at the back, the wig grip headband is one size fits all.

The wig cap is optional when you're using a wig grip headband but I like the additional protection of the wig cap.
It's okay to wash your wig headband in the washing machine but in the interest of longevity, I suggest handwashing.
Soak the wig headband in lukewarm water mixed with liquid detergent for a few minutes then handwash and hang out to dry.
You don't need to do too much when it comes to cleaning the headband so you can preserve the velcro fastening for as long as possible.
What is the Best Wig Head Band?
Below are some recommendations for the best wig grip headbands. Lasts long and has budget-friendly prices too.
I've made recommendations for wigs with a lace part in the middle as well:-
I will be back to update the article with the longevity of the wig grip headband but I expect it to last for at least 6 months before the velcro gets worn out.
Have you tried wig grip headbands yet? Share your experience in the comments section. 

This post may contain affiliate links which means we will make a small commission if you purchase through those links. Read full disclosure HERE.