Bamboo extract is a rich source of silica and can be a potent ingredient in keeping hair and skin healthy. Bamboo extract can also help facilitate healthier hair growth and strengthen hair.
In this follow-up to All About Bamboo Tea, I cover bamboo extract for hair growth, bamboo extract benefits, and how to include this potent ingredient in your hair care regimen.
I have also included some great bamboo extract hair care products and bamboo extract skincare products at the end of this article.

What is Bamboo Extract?
Bamboo extract is derived from the leaves and stalks of the Bambusa vulgaris plant, one of the fastest-growing plants in the world. It is aka bamboo silica.
The bamboo plant grows primarily in Asia but can also be found in Africa, Europe, and North America. It also holds a lot of economic and cultural significance in many parts of Asia.
Fun fact – bamboo is the main food of the giant panda (China), red panda (Nepal), and bamboo lemur (Madagascar).
Bamboo extract is available as a powder or as a liquid extract. The powder form is mostly consumed internally while the liquid extract is used in hair care.
Even though it's mostly for internal consumption, you can fortify your hair conditioner with bamboo extract powder.
Bamboo extract is light amber to clear in color and has a mild odor. It's pH balanced and great for use in hair care.
Bamboo extract contains various flavones, glycosides, phenolic acids, and amino acids. Bamboo extract is about 75% silica but also contains vitamins B6, C, and E.
Bamboo Extract Benefits
Bamboo Extract Encourages Hair Growth
Bamboo extract improves hair strength and helps hair grow stronger and faster due to the high silica content. Additionally, it makes dry and dull hair more supple.
Bamboo Extract Supplies Nutrients to Hair Follicles
When consumed internally, bamboo extract transfers vitamins and minerals needed for hair growth to the hair follicles.
Over time, hair becomes lush with a much-improved texture.
Bamboo Extract Prevents Hair Thinning
Another great benefit of silica in hair care is preventing hair thinning.
Get the most of this benefit when you add bamboo tea to your diet. Drinking 2 glasses of bamboo tea every day makes all the difference.
Bamboo Extract Strengthens Nails
Got brittle nails that split easily? The silica in bamboo extract enhances the absorption of calcium and vitamin D in the body which leads to stronger fingernails.
Add a few drops of bamboo extract to your nail oil and massage it into your nails every evening before going to bed.
Great for Skin Too!
In addition to all the benefits for hair, bamboo extract is also great for the skin. It boosts collagen production and improves skin elasticity.
Bamboo extract also protects the skin against sun damage, fights free radical damage, and prevents premature aging.
Bamboo Extract is a Natural Anti-inflammatory
Bamboo extract is a natural anti-inflammatory that can help alleviate skin conditions like eczema and psoriasis.
How To Use Bamboo Extract for Hair
Natural Cleanser
Bamboo extract is a mild astringent. When added to shampoos, it gently removes build-up on hair strands and adds shine and luster to hair.
Add 0.5 to 1 teaspoon of bamboo liquid extract to 3 tablespoons of Castile soap in a squeeze cap bottle.
Close, shake thoroughly and shampoo hair with this mix then deep condition as usual.
Hair Conditioner
Add 1 teaspoon of bamboo liquid extract to your usual deep conditioner and deep condition with heat.
Frequent use of bamboo extract in hair will lead to stronger hair and roots with a healthy scalp.
Scalp Massage Oil
Add 5 drops of bamboo liquid extract to 4 oz hair oil and use as a scalp massage oil.
Some great oils for this hair oil could be castor oil, pumpkin seed oil, jojoba oil, and grapeseed oil, or sweet almond oil.
Note – Do not overuse bamboo extract. Start with the minimum recommendations to observe how your hair reacts to it then use personal discretion afterward.
Bamboo Extract Side Effects
When applied topically, bamboo extract shouldn't have any side effects.
If you want to consume bamboo extract supplements and/or powder, check with your primary care physician before you start doing this even if you are in perfect health.
Does Bamboo Extract Contain Biotin?
Bamboo extract doesn't contain biotin (vitamin H). However, bamboo extract capsules might include biotin as one of the ingredients.
Where Can I Buy Bamboo Extract?
You can buy bamboo extract on Amazon, Etsy, or iHerb (worldwide shipping). Below are some individual recommendations:-



If you want to try the bamboo extract powder in your deep conditioners as well, I recommend:-
Bamboo Extract Hair Care Products
Bamboo extract is used in quite a few hair care products. If you're interested in learning about hair care products with bamboo, below are some great recommendations:-
Bamboo Extract Skin Care Products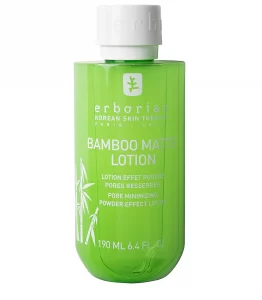 References

This post may contain affiliate links which means we will make a small commission if you purchase through those links. Read full disclosure HERE.