Avocado oil for hair is versatile and one of my favorite natural oils. It comes from the mighty avocado, which is one of the healthiest foods to eat.
Avocados are full of heart-healthy fats and so nutritious. It's one of the foods featured in 95 Foods for Healthy Hair Care and Growth.
You can download 95 Foods for Healthy Hair Care and Growth from the free resource library HERE.
By the way, have you entered the beauty subscription box giveaway yet? There are prizes worth over $200 up for grabs. Learn more HERE.
Back to avocado oil for hair, the avocado fruit contains more potassium than a banana and has one of the highest protein content of any fruit at 4 grams per avocado.
Out of the awesomeness of avocado comes avocado oil. Avocado oil is extracted from the pulp of the fruit.
Avocado oil can be used on the hair, skin as well as in cooking. For more on this, read:-
What is Avocado Oil Made From?
Avocado oil is pressed from the fleshy fruit inside the avocado.
The extraction process is similar to olive oil extraction but the skin and stone are removed before extraction for avocado oil.
The avocado flesh is ground into a paste and then churned for 40 – 60 minutes.
The oil is then separated from the water in the final polishing centrifuges.
The pulp from the decanting centrifuge and other waste is used for soil conditioning and mulch, or as animal feed.
An avocado tree can produce between 150 – 500 avocados per year.
Did you know Mexico is the world's highest producer of avocados followed closely by California?
The resulting avocado oil from the extraction process is emerald green because of the chlorophylls from the flesh and the skin and has a sweet and nutty aroma.
Avocado Oil Nutrition Facts
Avocado oil is an edible oil with a high smoking point. It is rich in vitamins A, D, and E, lecithin, and potassium. It's high in monosaturated fats.
Avocado oil also contains proteins, beta-carotene, and essential unsaturated fatty acids such as palmitic, palmitoleic, stearic, oleic, linoleic, and linolenic.
The best complementary oils for avocado oil are sweet almond oil, carrot oil, and olive oil but you can experiment with other oils if you wish.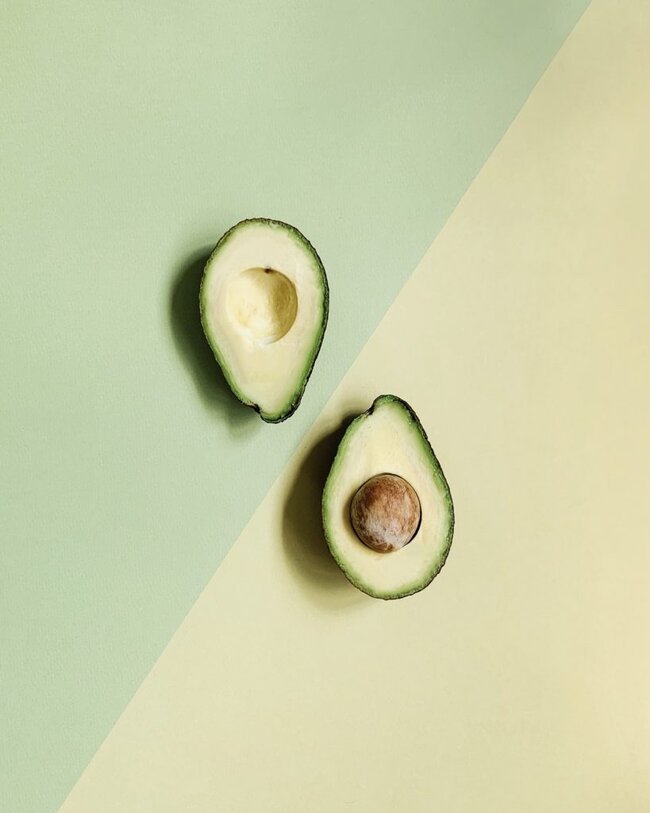 Is Avocado Oil Good for You?
Avocado oil is very good for you. If you've checked out the links on cooking and use on the skin I posted above, you will have learned how versatile it is by now.
Avocado oil is highly valued for its regenerative and moisturizing properties.
Benefits of Avocado Oil for Hair
1. Avocado Oil Nourishes and Softens Hair
Avocado oil has a high vitamin E content. Vitamin E promotes softness, manageability and nourishes dry hair.
2. Avocado Oil Moisturises Dry and Brittle Hair
Avocado oil structure is similar to olive oil. The monosaturated fats content contains moisturizing properties that treat dry, brittle, and/or damaged hair.
Avocado oil is also beneficial for treatments after relaxers and color treatments.
3. Avocado Oil is Suitable for All Hair Types
Avocado oil has a light texture. It is easily absorbed on hair and scalp and doesn't weigh down the strands.
Women with fine and/or medium density hair will love this oil.
How Do I Use Avocado Oil on My Hair?
Below are some of my favorite avocado oil recipes for dry hair. You can also use these recipes for damaged hair.
Ingredients
5 tablespoons of sweet almond oil or olive oil

3 tablespoons of avocado oil

5 drops of lavender essential oil
Directions
Pour the avocado oil and the sweet almond oil or olive oil into a clean bowl.

Set the bowl in a hot water bath allowing the oil to gently heat up.

In the meantime, section your hair into manageable parts and pin-up with hair clamps like these ones.

Apply the warm avocado oil to your scalp with your fingertips. Once your whole head is done apply the rest of the oil to the length of your hair.

Massage the oil into your scalp using the 8 Steps to Effectively Massage Scalp with Oil method.
Put on a disposable cap and wrap a damp, hot towel around your head for 15 minutes. You can also wear a steam cap for 30 minutes.
Afterward, shampoo your hair with a moisturizing shampoo like Giovanni Smooth As Silk Deeper Moisture Shampoo and deep deep condition your hair.
Avocado Oil Hair Mask
Ingredients
Directions
Pour all the ingredients into a bowl and place the bowl in a hot water bath.

Dampen your hair and then apply the warm mix in sections.

Cover with a disposable cap and let it sit in for 30 minutes.

Rinse out with lukewarm water and follow-up with a moisturizing shampoo and conditioner.
Boost Your Regular Hair Products With Avocado Oil
Add 1 tablespoon of avocado oil to your regular shampoo before you start using it.

Add 2 tablespoons of avocado oil to your regular conditioner for a deep conditioning treatment especially when you're using heat.

Add 1 or 2 tablespoons to your pre-poo recipes. Read What is a Pre-Poo and Pre-Poo Benefits for Hair.
You can adjust the ratio of oils in the recipes depending on your hair length and how heavy-handed you are with products. Adjust as necessary.
Avocado Oil for Hair Growth
When it comes to promoting hair growth, avocado doesn't feature at the top of the list.
There are more optimal oils recommended for hair growth such as pumpkin seed oil and castor oil.
I covered the best oils for hair growth and how to use them in The Ultimate Hair Growth Guide.
Where to Buy Avocado Oil for Hair?
My favorite brands of avocado oil are Chosen Foods Avocado Oil, Baja Precious Avocado Oil, and Maple Holistics Avocado Oil.
You can grab one or more of them with free shipping when you sign up for a free 30 day trial with Amazon Prime HERE. 
Does Avocado Oil Need to be Refrigerated?
You don't need to refrigerate avocado oil. However, it should be stored in a dark bottle and kept away from sunlight.
You should also store it in a cupboard. The average shelf life of avocado oil is 6 – 12 months.
Got any more questions about avocado oil for hair? Ask them in the comments section.
The original version of this article first appeared on Natural Oils for Hair and Beauty HERE.

This post may contain affiliate links which means we will make a small commission if you purchase through those links. Read full disclosure HERE.