As I Am Curl Color collection is becoming a rave with naturalistas because of its diverse selection and gorgeous results that pop without damaging the hair. I breakdown the collection in this article as well as the pros and cons of the curl color collection.
I'm not a big fan of coloring hair with chemicals and my preferred hair dying method henna and indigo.
However,  when this range popped up on my radar with the promise of so many colors without any hair damage, I sat up and went on a research binge.
I'm not a newcomer to As I Am brand and I shared some of my favorites in As I Am Hair Products.
As I Am products are specifically formulated for curly hair and utilize a wide range of natural ingredients and botanicals.
What is As I Am Curl Color?
The As I Am Curl Color range is a collection of temporary hair colors specially designed for curly hair.
The range contains damage-free ingredients and works perfectly on darker hair types so you don't need any bleach, lightener, etc.
The range is formulated for type 2, 3, and 4 hair and provides perfect curl definition as it gently colors your hair.
It took the creators 2 years of research and testing to bring the product to market according to Belal Ahmed, As I Am Marketing Director.
I really love the bright and bold packaging of the curl color collection too.

Pros and Cons of As I Am Curl Color
1. Temporary Color
This is a temporary hair color that will wear off after one wash so you can experiment with as many colors as you like every few weeks.
2. Healthy Ingredients
As I Am Curl Color collection is infused with Jamaican black castor oil and ceramides.
JBCO strengthens and softens the hair while ceramides help the cuticles lay flat and protected.
The manufacturer claims this product increases moisture levels by over 80% and increases hair strength from first use.
3. Multipurpose Product
As I Am Curl Color works as a curling gel while also providing a color pop. That's a 2 in 1 product that won't stress out the hair.
4. Value for Money
As I Am Curl Color costs less than $10 for a 6 oz jar. You only need a little bit at a time for each section of hair too.
However, keep in mind the longer your hair is, the more product will be required.
If you also want a dramatic color change, you will need to be a bit heavy-handed with the product. It won't last quite as long in this case.
5. Easy to Use
As I Am Curl Color is easy to use and isn't messy if you follow the instructions. Detailed instructions are below.
6. Loads of Color Options
As I Am Curl Color is available in 13 vibrant shades. Namely:-
Bubble Gum Pink
Bold Gold
Copper
Cool Blue
Emerald Green
Flamingo Pink
Hot Red
Lemon Yellow
Minty Mermaid

Passion Purple

Rose Gold
Tiger Orange
Sassy Silver
Those are some super cool colors you can experiment with until you find the color that's right for you.
This Instagram post, in particular, has completely sold me on this curl color collection and I definitely look forward to trying it out once it's available at my location.
7. Lightweight and Moisturizing
As I Am Curl Color is a lightweight, non-greasy formula that also moisturizes and dries flake-free. 
Additionally, you can be heavy-handed with it and it won't make your hair look cakey or chalky once dry.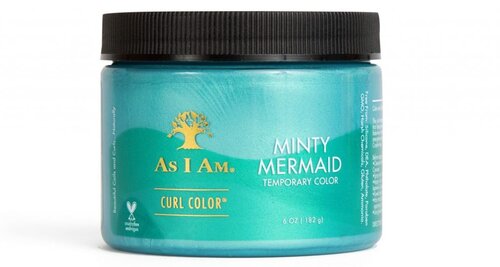 As I Am Curl Color Instructions
So, there's a specific process to using As I Am Curl Color to get the best results and get your curls and color to pop properly.
As I Am Curl Color could also be used for bantu knots, finger coils, roller sets, Curlformers set, and flexi rods sets.
Don't forget to pin up at night to preserve the color and hairstyle for as long as possible before the next wash.
General Notes For Applying Hair Color
The notes for when applying hair color are pretty much the same as when applying henna and indigo:-
Wear an old t-shirt you don't care about.
Line your bathroom floor with old newspapers.
Drape an old towel you don't care about around your shoulders as well.
Color your hair in small sections to prevent a mess especially if you're clumsy when doing your hair.
Make sure your hair is completely dry before you put on different clothes or lay down in bed to avoid color transfer.
Wear gloves to avoid staining your nails and fingers.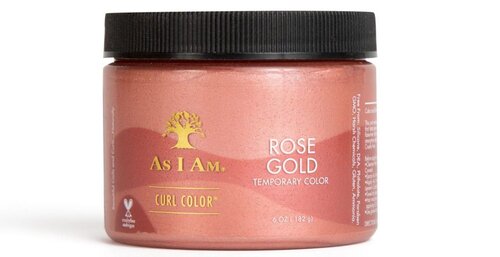 How Long Does As I Am Curl Color Last?
As I Am Curl Color lasts until your next wash and comes out easily when you apply shampoo.
So you can apply the color and wait two weeks before shampooing and the color will last that long.
Can I Use As I Am Curl Color on Straight Hair?
Technically, you could use As I Am Curl Color on straight hair but remember it's a curling gel as well. Because of this, it works best on wavy, curly, coily, and kinky hair textures.
Give it a try if you have straight hair. If it sucks, just wash it out and your hair's back to form.
How to Remove As I Am Curl Color
As I Am Curl Color provides the option to change your hair color temporarily without committing to a dramatic change or damaging your hair.
If you don't like the color, you can simply rinse or shampoo your hair and it will be removed completely.
Where to Buy As I Am Curl Color?
Currently, the As I Am Curl Color collection is only available in the US. You can find As I Am Curl Color collection at the following retailers:-
Have you tried As I Am Curl Color? Share your experience in the comments section.

This post may contain affiliate links which means we will make a small commission if you purchase through those links. Read full disclosure HERE.